Small Dent Removal in Sacramento
Our great reputation is the key to our success. No appointment necessary. Most jobs take about an hour. Don't get dinged at the dealership.

Come by our convenient location, contact us, or send us a picture to get your free quote.
About Our Recent Small Dent Repairs:
We repair dents that do not have paint damage. That is how paintless dent repair is performed. We are not a body shop. We do not provide collision repair or paint repair. We repair cosmetic damage to alloy wheels. We do not repair bent or cracked rims. I am trying to set peoples expectations and save me for paying for unnecessary bad leads.
Let The Numbers Speak For Themselves
About Our Small Dent Removal Services
At Dent Shoppe Auto dent repair and bumper repair, we pride ourselves on our ability to inform and educate our customers, as well as to perform the highest standard of workmanship.
What Our Customers Are Saying!
"Incredible service! Great work! So happy to have a place we can can trust too do the best job with great integrity. We've been there several times. The last time the owner refused to let us pay for the work because he wasn't able to make the repair perfect. We really appreciated the gesture. We'd have been happy to pay him though. We know he put a lot of effort into it."
"The Dent Shoppe provided excellent service and exceeded my expectations. Sandra surveyed the damaged area of my vehicle, provided me the estimate and scheduled my appointment for repair. Gabe is a master paint less dent removal craftsman and restores the damaged area to like new condition. The dent shop provides excellent value."
"This review is way overdue! Gabe and Sandra are great to deal with. They are professional, fair and honest (a rare combination today!) They have done several jobs for us during the past few years and I wouldn't take our vehicles to anyone else without first seeing them."
"Hi Sandra…..Just wanted to let you know that I'm very pleased with the work that Steve did on my Toyota Camry on June 10th. I had that hideous dent on the left front side panel when I drove in and when I came back in one hour to pick up my car it was gone. I don't know how he did it, but it's gone now and I feel very good about my car now. Thank you very much for the nice job."
"The Coleman's, Brought my Porsche Cayenne in on Saturday, July 9th with a bad dent on the door. A miracle happened! The dent is gone – the paint looks like nothing happened. Thanks so much for a miraculous job at a fair price. We're telling everyone about you. P.S. And it was fast"
"Hi Sandra and Steve, Thanks for the fabulous repair you did on my Mercedes yesterday. Before I visited you I was really unsure if I should take my car to a high priced auto body shop or if your repair technique would work. I had a lot of questions and you did a great job explaining the repair process to me. I am thrilled with the result of the repair. There is no sign of that 5" dent and now my wife doesn't feel so bad about backing our car into the garbage can!!! I'll be sure to recommend you.Thanks Again."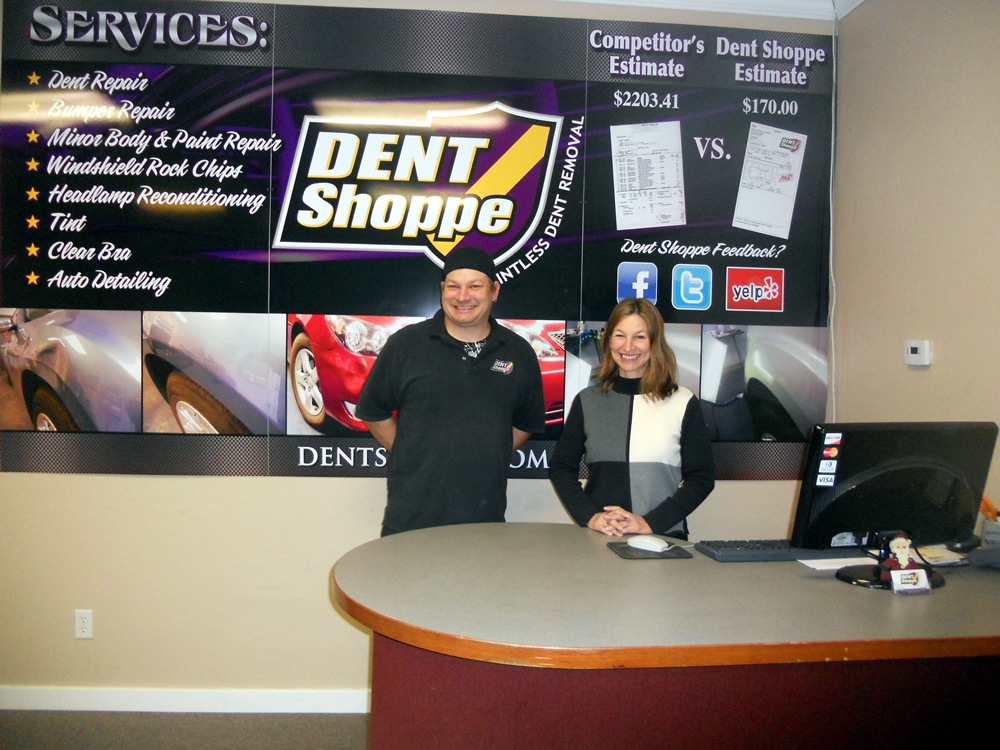 Sandra Coleman and her family opened the Dent Shoppe in Folsom in 2003. Gabriel has perfected the technique of paintless dent removal. It is a process that removes dents and dings from automobiles and motorcycles without using paint or bondo. Most jobs cost between $85 and $300 and are completed in about an hour. The Dent Shoppe is located at the intersection of Greenback and Madison. Having a shop is a real advantage. It provides for a stable environment with consistent lighting, temperature, and lots of tools for many types of jobs.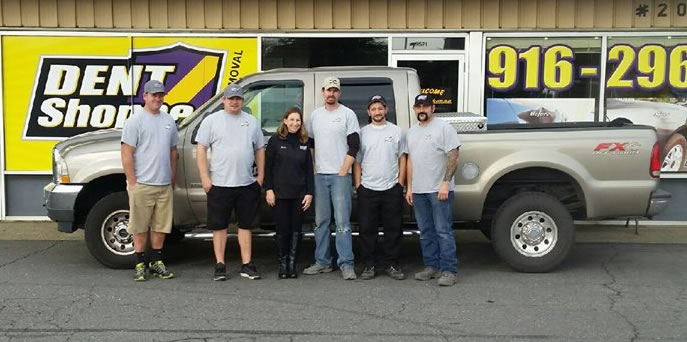 For general inquiries, questions or comments please use the form below to contact us, or alternatively feel free to Call Us or stop by our convenient location at Greenback and Madison in Folsom. We will do our best to respond within 24 hours. If you are looking to get a FREE QUOTE please fill out the form above or click here to text us a picture of your dent with your vehicle's year, make and model information.